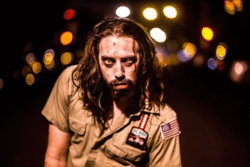 ATL Dead is a ground breaking blend of part haunted house, part interactive theatre, and part live-action video game. A team of six recruits will be guided through a zombie-infested building in search of a vaccine that could help save humanity from the zombie infection. Armed with Nerf-guns, audience teams will hunt zombies throughout the entire building. But beware, the zombies are hunting you! Survive the infection, fight the undead, and save the city!
ATL Dead is MARTA accessible and offers one of the only Halloween attractions inside the Atlanta perimeter!
DC Dead, the parent company, premiered the show in Washington, DC in 2014. The production has been produced in Washington, Oklahoma, and New Mexico, and has received rave reviews from audiences and critics. See what patrons had to say about the show at http://www.dc-dead.com/about.html
Note: This 35 minute adventure-production includes zombie tagging, firing Nerf guns, climbing stairs, problem solving, and audience teamwork.