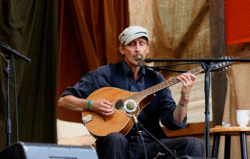 Hello Folks! I produce contemporary and old style traditional shows in the Bellingham, Wa area. Weekly there is Irish & Folk Monday Evenings at Boundary Bay Brewery Beer Garden in Summer and Honeymoon Mead & Cidery in Winter.
If you treasure consistently good Irish, Scottish, Celtic, Roma Swing Music, Jazz, Blues, and Rockabilly like you've never heard, please support this programming:
https://www.patreon.com/janpetersmusic?ty=h.
Or: https://www.fracturedatlas.org/site/fiscal/profile?id=12404&donate=1
Find the Facebook Page for the weekly programing :) https://www.facebook.com/Irish.Mondays.Bellingham/?fref=ts
I produce shows with my wonderful Irish based band Gallowglass - Our site: http://gallowglassmusic.squarespace.com
Also I play with a ripping good Scottish band called Puirt na Gael.
Thank you for stopping by! Please feel free to contact me with any questions - jansongsproductions@gmail.com