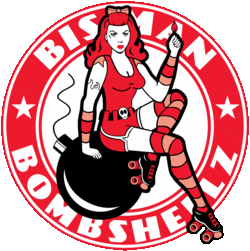 The BisMan Bombshellz is a local, skater-run non-profit flat-track roller derby league. We were established in the summer of 2010, through the power of social media. Our skaters lead committees, serve on the Board of Directors and work as coaches and referees in our ever-evolving league.
We operate under the nationally recognized Women's Flat Track Derby Association (WFTDA) and Men's Roller Derby Association (MRDA) set of rules and regulations.
The Bombshellz mission is to bring roller derby to the Bismarck-Mandan area, by hosting and traveling to bouts to compete against other leagues in our area, including; Montana, Minnesota, North Dakota, South Dakota, Canada and more.