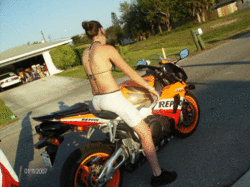 Role at Brown Paper Tickets:
Call Center Supervisor
Why I love Brown Paper Tickets:
As someone who likes to go to many shows, I love Brown Paper Tickets because the fees are so low. With other ticketing agencies, the fees are almost the same price as the ticket itself. It's nice to not have to give up my first born just to see a show.
Favorite tool in the Brown Paper Ticket system:
Mobile ticketing, for sure! What a cool invention! I think it's so cool that you can download your tickets on your phone and have them scan it at the door. Brilliant!
Best part of the job:
The best part of the job for me is being one on one with the customers. It's so nice to help out customers when they have questions about events or would just like to order tickets.
My secret talent:
I'm a shark at ping-pong!!
Favorite quote:
"It is what it is..."
"What u talkin bout Willis?"
Current favorite song:
"Skin" by Rihanna
Anything by DJ Dan
If I could have any super power:
It would definitely have to be mind reading. Oh and teleporting of course.
The best present I ever received:
My personalized University of Oregon Nike Shox. Birthday present from my dad. Totally cool.
Best way to spend a Sunday:
Watching the Seahawks, of course!
Favorite guilty pleasure:
Red Bull. Lots and lots of Red Bull.
When I rule the world:
I'll give everybody free tickets to their favorite concerts!