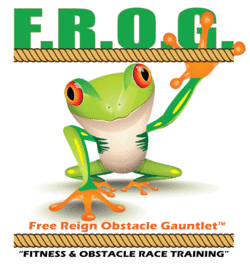 F.R.O.G. (Free Reign Obstacle Gauntlet) incorporates Parkour elements and principles, man-made structures, and common terrain to help those training for Obstacle Course Racing (OCR) and achieve overall fitness in a fun and exciting way.
We assist people's training by allowing them to exercise in a relevant manner to an obstacle race, while utilizing the terrain around them. Whether it's pulling on a rope or traversing up a make shift "caving ladder," a person's muscles can become conditioned for that exact type of body strenuous action and activity. Additionally, we provide proven techniques and skills to better allow a person to efficiently overcome obstacles, without expelling much of their energy. When strength fails, technique prevails!
In saying that, we strive to increase one's strength by completing various strength exercises and activities utilizing the "Body-Weight" approach. We believe a person's strength should correlate with moving their own body-weight. What good is it, if you can lift a 50-pound dumbbell, but not pull yourself over an obstacle? Our classes are offered in an enjoyable open environment, which is fresh and conducive to one's health. Additionally, our members enjoy bringing their kids along to play at the park, while they train. We're all inclusive when it comes to a family atmosphere.
We at F.R.O.G. are forward thinking and believe training should be free of constraints and social norms. In other words..."Free Reigned."
We look forward to training with you!