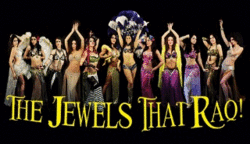 RAQ! PRODUCTIONS presents:
THE JEWELS THAT RAQ!
~A Premiere World Dance Fusion Show~
The Jewels That Raq! are Southern California's premiere belly dance group.
The Jewels That Raq! Fusion and Belly Dance Show is based out of Southern California, but travel both Nationally and Internationally.
They provide top quality shows, with extremely talented, beautiful, versatile and professional artists available today!
EXPERIENCE THE SHOW THAT HAS MESMERIZED AUDIENCES EVERYWHERE!
"They put on an amazing performance! Truly artistic. Incorporates all the elements of traditional belly dancing from different cultures, and merges them seamlessly with modern influences for a wonderfully diverse and unique show. Needless to say, anyone would enjoy watching these beautiful women, but when the dance floor opened up afterward, old women and little girls alike joined each other in trying to emulate their moves! Even I found myself secretly trying to do a few moves afterward...
This unique, and talented visual performance group, specializes in stage productions of ther own dance and variety concerts and, as well as open and accompany live bands and musicians on stage.
The Jewels That Raq are the "Jewels" of Belly Dance, whom are a highly sought after International performance group.
Their commitment to producing and presenting the finest show keeps them in high demand. Each 60-90 minute show is complete, with a wide range of bellydance and international dance styles within one show.