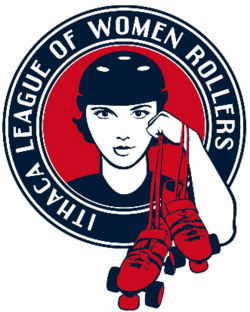 ILWR is a 501(c)(3) non-profit organization which endeavors to provide athletic opportunities for women and youth, and to promote the well-being of our region through charitable donations, volunteering, and community outreach for numerous community-oriented non-profits and women-centered organizations.
ILWR's flagship team is the SufferJets and in March of 2010 debuted their second team the BlueStockings. In the summer of 2010 ILWR developed a junior league division called Ithaca League of Junior Rollers (ILJR). ILJR welcomes girls and boys ages 8-17.
ILWR is a member of the Women's Flat Track Derby Association (WFTDA), the governing body for women's amateur flat track roller derby.
Sign up for our email list.