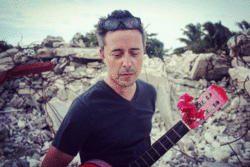 With nominations for three Juno awards, The Polaris Prize, The CBCs "Heart Of Gold" AND a pile of albums under his belt, Danny Michel is unquestionably one of Canadas finest songwriters. His thoughtful lyrics & earnest performances have earned him a devoted fan base. Past critics have praised Dannys lyrics for having something to say" without coming off preachy. An environmentalist, pacifist, romanticist and space enthusiast, Dannys hopeful songs find a home in everyones heart.
In 2011 Danny relocated to Belize and founded the Danny Michel Ocean Academy Fund to help raise scholarships for small non-profit community high school. To date he's raised over $70,000.00 for the school and volunteers there when he can.
Being An adventurous & fearless artist he later tracked down one of his favorite Belizean bands; The Garifuna Collective, a unique Afro-Amerindian cultural group and convinced them to make an album together. That album (Black Birds Are Dancing Over Me) was quoted as One of the finest musical works of our time By Billboards Larry Leblanc. The album landed him a 3rd JUNO nomination (this time in the World Music category) and a sold out summer tour of North America with The Garifuna Collective.
At the moment Danny is working on an album written aboard the Russian ice-breaker, Kapitan Khlebnikov. (Possibly the most northern recorded album ever recorded / above 80) A collection of songs inspired by an 18 day polar expedition with Canadian Astronaut Chris Hadfield on Generator Arctic