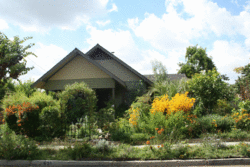 The Urban Homestead Project is located in the midst of metropolitan Pasadena.
Surrounded by urban sprawl and just a short distance from a freeway, over the last twenty years the Dervaes Family have steadily worked at transforming this ordinary city lot into a sustainable & self sufficient homestead.
URBAN HOMESTEAD is a registered trademark (R) of Dervaes Institute.