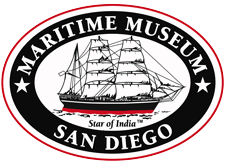 Voted recently as one of the top 3 maritime museums in the world, the Maritime Museum of San Diego enjoys a worldwide reputation for excellence in restoring, maintaining and operating historic vessels. The museum has one of the world's finest collections of historic ships, including the world's oldest active ship the Star of India.
The Museum displays permanent and temporary exhibits on maritime history, and stages popular public events such as The Chocolate Festival, Pirate Days, Festival of Sail and many more.
Our on the water adventures includes daily 45 minute San Diego bay cruises aboard our 1914 Pilot boat, 4 hour Ocean Adventure sails most weekends and during the summer Fridays, plus multi-day sailing adventures to Catalina and the surrounding islands. Soon to be added bay cruises aboard one of the original Vietnam era Swift Boats. The only operating passenger carrying Swift Boat in the world.
Founded in 1948, the museum grew out of the earlier efforts of a group of local historians and maritime enthusiasts who acquired the sailing ship Star of India in 1927. Now fully restored, the Star of India is maintained by a dedicated group of volunteers and skilled craftsmen.
The museums collection includes the 1898 steam ferry Berkeley, the 1904 steam yacht Medea, the 1914 Pilot, the states official tall ship Californian -a replica of a mid 19th century revenue cutter, and the H.M.S Surprise, a magnificent replica of an 18th century Royal Navy frigate featured in the award winning film Master and Commander: The Far Side of the World. B39 Soviet Submarine and the USS Dolphin submarine. Recently restored and added to our growing fleet of historic vessels is our MK1 Vietnam era Swift Boat.
Still in process the Maritime Museum of San Diego is building a full-sized, fully functional, and historically accurate replica of Juan Rodriguez Cabrillo's flagship, San Salvador. Being built right here in San Diego at Spanish Landing you can witness the progress of this most historic of ships.