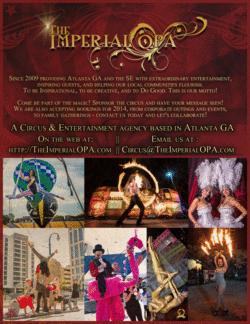 Founded in October of 2009, the Imperial Opa Circus is a theatrical entertainment company based in Atlanta, Georgia. We have one motto that underlies everything we do: Inspire, Create, and Do Good.
Exciting and approachable performance styles, combined with unique and artistic puppetry and musical wonderment make The Imperial Opa Circus one of Atlanta%u2019s most diverse and entertaining entertainment troupes.
Excitement, entertainment and uncommon people doing wondrous things!
This is The Imperial Opa Circus%u2014creative entertainment to enchant, dazzle, and amaze