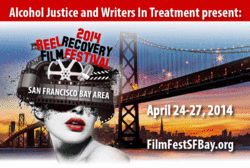 The REEL Recovery Film Festival - San Francisco Bay Are Edition is a multi-day event celebrating film, the arts, writing and creativity about addiction, alcoholism, behavioral disorders, treatment and recovery.
This health and wellness event is being produced by Alcohol Justice and Writers In Treatment. Major Sponsors include Wells Fargo Bank, Duffy's Napa Valley Rehab, Center Point, Inc., Kaiser Permanente Community Benefits Programs - Marin Sonoma Area, and Trent Cutler.
Most sessions take place at the Delancey Street Theater in San Francisco (SF) with two special sessions at the Smith Rafael Film Center in San Rafael (SR).
Opening Night (SF) - $15.00
All films - $5.00 each
FESTIVAL PASS - $25.00 (Does not include Opening Night)
Alcohol Justice is a 501(c)(3) nonprofit organization that envisions healthy communities free of the alcohol industry's negative impact. As the industry watchdog, Alcohol Justice promotes evidence-based public health policies and organizes campaigns with diverse communities and youth against the alcohol industry's harmful practices.
Writers In Treatment is a 501(c)(3) nonprofit organization grounded in the arts and recovery fields. W.I.T.'s primary purpose is to save lives through promoting and providing treatment as the best first step solution for addiction, alcoholism and other self-destructive behaviors.