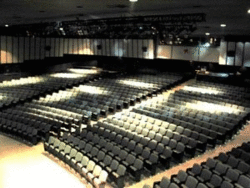 The Highlander Auditorium is a 1073 seat proscenium arch theatre located just 30 minutes east of downtown Los Angeles in the foothill community of Upland CA. Each season the Highlander is host to a variety of art from Theatre, Dance, and Film Screenings, to Corporate, Cultural, and Religious events. Even special events such as weddings and private parties have graced the stage of the Auditorium.
Audio Capabilities
40 stage inputs patchable to a Yamaha M7CL-48 Digital Console. QSC WideLine Line Array. Shure UHF-R wireless microphones, BSS Soundweb processing and various other professional gear.
Dressing Room Space
7 Rooms 4,000+ total sq ft
Features
Air Conditioning, Free Parking
Seating Capacity 1073 Fixed Seats
Stage Size 50ft Wide By 45ft Deep
Lighting Capabilities
378 ETC 2.4k dimmers, ETC EOS Console, 12 VL2500 Spots, 16 VL500 Washes, various ETC and Altman conventional fixtures.
Video Capabilities
27ft HD 16:9 Projection screen, two 9ft satellite HD widescreens and three Christie Projectors.