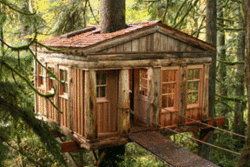 Come take a tour of the TreeHouse Point treehouses!
Tours take approximately 1 hour
and we aim to take you inside as many of our treehouses as possible, based on availability.
Tours are available year-round, on specific dates, based on reservations and other events at TreeHouse Point.New dates are added at 2 pm Pacific Time on the first Tuesday of the month prior.
For example: March tour dates will be available at 2 pm Pacific Time on Tuesday, February 5th.
The cost of the tour is $25/person, regardless of age*.
*Although we strongly recommend the tour for ages 4 and above, all ages are welcome. Infants must be held in carriers the entire tour, and do not need a ticket. Any child who will be walking must have a purchased ticket.


There may be multiple tours offered on the same date. Prior to purchasing your ticket, please confirm that the date and time you have selected for your tour is correct.


All guests must check-in for tours in the Lodge. Please arrive no earlier than 15 minutes before your scheduled tour begins.


Parking is extremely limited and carpooling is required.


Pets, including dogs, are not allowed on our property, including on-site in your vehicle.


Tickets are non-refundable.


Tours will be conducted regardless of weather.


All tour attendees are required to stay with their tour guide at all times.

We hope you can come "Be in a Tree" with us soon!