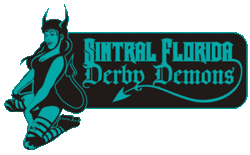 Sintral Florida Derby Demons, or SFDD, was founded in 2008 as an all-female, roller derby league. As a skater owned and operated, non-profit organization, our founders strove to develop a league of the fastest, fiercest femme fatales on eight wheels. All members are dedicated to bringing the sport of roller derby to the fans of the Central Florida area.
We are comprised of dedicated skaters, coaches, referees and volunteers that come from all over the state to be a part of the team. SFDD travels all of Florida, and the U.S., to compete alongside rival teams, participate in scrimmages and cheer on other leagues.
Flat track roller derby is the fastest growing sport in America. The action is real. It's a fast-paced, hard-hitting, full contact sport. Our goal is to provide a gripping sporting event to the community that is accessible to everyone. We are passionate about what we do and we want to share our love of the sport with the world.
Our home rink is located at the Coca-Cola Pavilion at Bruce Rossmeyer's Destination Daytona, in Ormond Beach, Florida.
We play by the rules and guidelines set forth by the Women's Flat Track Derby Association (WFTDA).