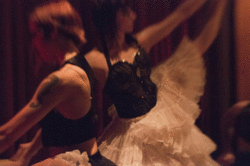 Role at Brown Paper Tickets:
French Localization and Outreach
Why I love Brown Paper Tickets:
We care about our people, about the artistic community but also the community at large by giving 5% of our profits to charities. Wow! It is inspiring to be part of a company where you are encouraged to be creative all the way around, where you can put all of your skills to use, and where you can also get paid to volunteer.
Best part of the job:
Launching the French site from scratch while working with an eclectic workforce in the center of the Universe: Fremont!
When I'm not working:
You mean at BPT? I'm usually working on something else... on my freelance photography projects, planning a new exhibit, editing my photos, or helping the Bellevue Festival of the Arts, another cool non-profit giving back to the community and charities.
Personal Website:
www.carolineplanque.com
If I could have a super power:
To be able to be a several places at the same time. Days are too short, in my opinion!