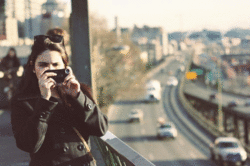 Role at Brown Paper Tickets:
Call Center Representative and oftentimes referred to as "Life Saver" :)
How I can help you:
Purchasing tickets? Have a question regarding a specific event? Modern technology not working in your favor?
When you give us a shout via our 24/7 number, I may be one of the human beings that can help you out with anything BPT related that's within the limits of the powers I was given!
Why I love Brown Paper Tickets:
In the short time I've been here I have caught myself geeking out numerous times because it's such a cool company. When I say cool company I mean the whole package, too- amazing people, beyond cool customers who always make my day, and at BPT when we say we are not just for profit, it goes way beyond a catchy title. The company really strives to be that greater good within the community. It's easy finding the sublime in my everyday life when I'm at Brown Paper Tickets.
Best part of the job:
The the fact that most people have a story to tell is truly remarkable. Having the privilege to help others out and have them tell me about a really cool show on the other side of the country or about their granddaughter's musical among many other things is something I always welcome.
When I'm not working:
I'm out there! Hiking, running, eating (lots!), capturing almost everything with a lovely Canon, you name it. My absolute need for adventure has made me someone who is always exploring. Being fairly new to Seattle, I'm always looking for something new ad exciting.
When I'm recharging I watch a lot of Doctor Who/Sherlock and read.
Favorite quote:
For me, I am driven by two main philosophies, know more today about the world than I knew yesterday. And lessen the suffering of others. You'd be surprised how far that gets you.
-Neil De Grasse Tyson <3
If I could have any super power:
TIME LORD. Well, Time Lady? Traveling through space and time and all that's in between.
My favorite childhood toy:
Well balanced dosages of Barbies and Legos.
Favorite guilty pleasure(s):
Ben and Jerry's by the pint, singing to the person in the car next to me on the highway, Instagram, and so on.
When I rule the world:
I'll give everyone free ice cream and tickets to shows.
I'll renew Firefly.
Also no fossil fuels allowed, sorry y'all.