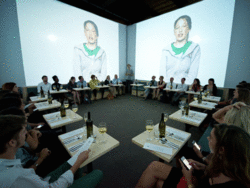 The legendary New York City video cinema and dining experience is open in Denver for a
until June 1st
. The audience sits inside a giant cube of four 24-foot screens. Denver marks the first city outside of New York in an expected three year national and international tour. Capacity is limited to 32 per seating, so book your tickets soon.
February 27 - June 1, 2014
Two seatings each night:
6pm and 8:30pm
.
______________________________________________
All remaining seatings are
SOLD OUT
, EXCEPT, we released tickets for a
10:45pm seating
on Sunday, June 1st. We will make room for
60 additional people
to bring blankets and pillows to "picnic" inside and (mostly) outside the cube and watch the "bonus" screening. We will be serving Sangria and edibles.
Tickets for the
10:45pm "floor/picnic" seating
are
$10
- includes plenty of Sangria and edibles
Purchase here
. (They will not last.)
______________________________________________
Our
"original" video program
continues on
Tuesdays and Thursdays through Saturday in May
. It is the same program that screened in March and April.
It features
17 artists
, including:
Shana Moulton, Takeshi Murata, Peter Burr, Kelly Monico, Will Rahilly, Laleh Mehran, Johanna Billing, Jeremy Couillard, Agnes Bolt, Quintin Gonzalez, Theo Angell, Milton Melvin Croissant III, Jonathan Monaghan, Chris Coleman, Alex McLeod, Phil Solomon, and Montgomery Knott
For
Wednesdays and Sundays in May
, we are screening an entirely new program that includes a 30-artist exquisite corpse video work for
Psychic TV's
seminal 1983 album
Dreams Less Sweet
, plus a hand-drawn animation by Portland artist Lori D, a 4-channel roller skating film by Sarah Friedland, the conclusion to Montgomery Knott's
The Waxwing Slain
and other artists; as well as the scheduled weekly performances.
Monkey Town 4 has partnered with
The Populist
and
City O City/WaterCourse Foods
and
Noble Swine
, who have created tasting menus with wine pairings (including vegan/vegetarian/gluten free options). Menus will change slightly over the course of each month.