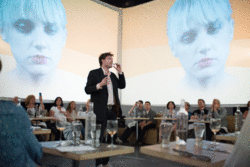 Monkey Town 6 opens on November 4, 2015 in Austin, TX, and runs for 3 months until February 7, 2016.
The audience sits inside a massive 27 foot cube, watching a 2-hour multi-channel video program, dining on 4 or 5-course menus from Chef Sonya Coté (Eden East and Hillside Farmacy).
After 10 years in New York, Monkey Town traveled to Denver in the spring of 2014 for a highly-praised 3-month run, and then to Barcelona in the spring of 2015.
NOVEMBER TICKETSThis Sunday ($65)
6pm and 8:30pm
5-courses with gratuity included --
less than 18 seats left(Saturday is SOLD OUT)
DECEMBER TICKETSWednesdays - Sundays in December ($68)
6pm and 8:30pm
5-courses with gratuity included
Tuesdays in December ($45)
6pm and 8:30pm
4-courses with gratuity included
~~~~~~~~~~~~~~~~~~~~~~~~~~
For more information, a list of artists, and to view the trailer, visit:
www.monkeytown6.com