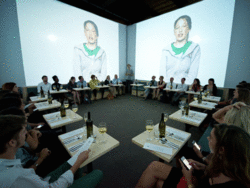 This summer Monkey Town moves from Brooklyn to Eyebeam in Chelsea,
June 13th through August 11
, for a two month nightly pop up dining and visual experience before launching a national tour. Seatings are in Eyebeam's spacious exhibition hall, at 7pm and 9:15pm.
The event reconstructs the original and still unprecedented cinema-in-the-round, this time as a seamless floating cube of 4 massive projection screens, with 8.1 surround sound. This 10th anniversary edition will feature a single curated film and video program that replays every night for 60 days, featuring almost all multi-channel works by 21 extraordinary artists and filmmakers's co-curated by Montgomery Knott and Maggie Lee.