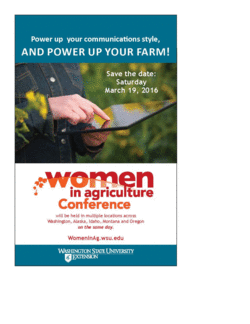 "POWER UP Your Farm" is the theme for the 2016 Women in Agriculture Conference on Saturday, March 19, 2016.
Whether you are on Facebook or face to face, it matters how you communicate with others!
For registration at the site nearest you, click on either:
* Postcard to the left of the specific location name or,
* On "view event" (located to the right of the description).
PLEASE NOTE:
Idaho & Montana sites - Caldwell, Cascade, Salmon, Twin Falls and Bozeman have a start time of 9:30 a.m. Mountain Time.
Fairbanks and Kenai, Alaska start time is 7:30 a.m. Alaska Standard time.
WHEN REGISTERING FOR SOMEONE OTHER THAN YOURSELF, PLEASE USE THEIR EMAIL SO WE CAN INCLUDE THEM ON OUR LISTSERV. THANK YOU!