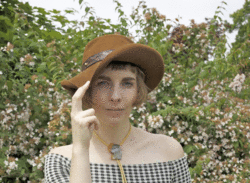 Role at Brown Paper Tickets:
Accounts Payable and French/English Client Services representative.
Why I love Brown Paper Tickets:
I hope to become a critical community member in the development of a localized arts scene, which is why Brown Paper Tickets appeals to me greatly. Our focus on giving back to the communities that spawned the need for our service is a rare trait, indeed. Respect and big love.
Best part of the job:
Office dogs, rad co-workers, and genuine positive vibes. People love working for this company for a reason.
A bit more about me:
Music, literature, performance art and film are omnipresent forces in my life. I graduated with a degree in French Literature from the University of Puget Sound in May of 2012. My major may as well have been entitled "Existential Studies." Ah ! la solitude perpétuelle !
I was a radio DJ and music director at KUPS, 90.1 FM, The Sound (which has received accolades ranging from top 10 positions in the Princeton Review over the past decade to the college radio Woodie Award in 2010 from MTVu) for 4 years. As such, I've become a junior scholar of esoteric art music, with a focus on the post-punk, Krautrock, the neue Deutsche welle, no wave, musique concrète, minimal synth and industrial genres (with an extra soft spot for the German experimental schools).