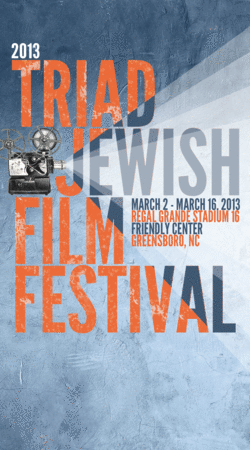 The 2013 Triad Jewish Film Festival committee is excited to invite you to join us for six amazing films.
Movies have unique powers. The power to bring us together for a few hours, the power to educate, to entertain, and to challenge us. This year we have assembled a range of films with the power to do these things and more.
From the shtetl roots of Jewish culture in the Ukraine to a behind-the-scenes view of American classic cartoons, there are stories amongst this year's slate that provide powerful new perspectives on Jewish history, politics, culture, and comedy. These are films that are able to peel the onion back to reveal complexities that draw you in and make a lasting impression.
When going to the theater, perhaps it has become trite to say that "you will laugh and you will cry". Isn't that why we go to the movies? Great films make us feel something. They allow us to share a common experience with friends and neighbors. They give us something to debate and discuss at the water cooler or over coffee. There is nothing more extraordinary than the power of a well-made film to move us. This is why the Festival plays such an essential role in our community.
We are extremely proud of the films we have selected for the 2013 Triad Jewish Film Festival and we hope you will enjoy them all as much as we did. There is a seat waiting with your name on it.
See you at the movies!