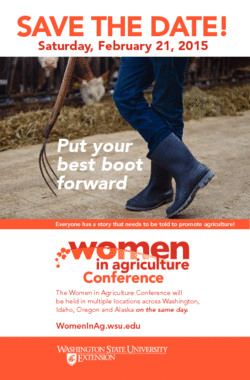 "Put Your Best Boot Forward" is the theme for the 2015 Women in Agriculture Conference on Saturday, February 21, 2015.
For registration at the site nearest you, click on either:
* Postcard to the left of the specific location name or,
* On "view event" (located to the right of the description).
PLEASE NOTE:
Idaho sites - Caldwell, Idaho Falls, Pocatello, Salmon and Twin Falls have a start time of 9:30 a.m. Mountain Time.
Fairbanks, Alaska start time is 7:30 a.m. Alaska Standard time.