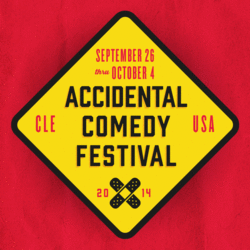 Other cities (San Francisco SketchFest, Portland's bridgetown, Atlanta's Laughing Skull, LA's Riotfest, Grand Rapids Laugh Fest) all have grown to really attract not only national talent but industry types. All I do is pull in a lot of favors and use the network I've built performing abroad and producing shows locally and I put together some of the best, most fun nights on in the city. Regularly. The festival shows are all a bounty of 28 great upcoming performers joining the already strong local scene.
Though it's small in scale, I've made making the experience of being in Cleveland and performing here the main selling point and every year more and more comics submit to take part in it.
Speaks to the cities growth as a destination for comedy. The past few years over 1,000 people attended free and paid shows. This year, hopeful over 1,500 at the shows over the course of the week before even counting the stage at Ingenuity's impact.
The best part is that every participating venue offers a weekly or monthly show. So there's basically almost always a comedy festival brewing.
I've assembled all of these shows. They're all going to be really good. They're all going to show Cleveland is as great of a comedy city as NY, CHI. It's smaller but it's growing and it is mighty
-Ramon Rivas II
Entering it's 3rd year, we're not quite sure if you can still call it an Accident. Ramon Rivas II has been curating a festival every fall centered around a comedy stage at Ingenuity Fest that flows over to venues all over the Greater Cleveland area.
This year comics from NY, SF, Portland, CHI, Columbus, Louisville, Atlanta join some of Cleveland best. The out of towners taking part are staying at the Cleveland Hostel giving them a great opportunity to perform/experience comedy in Cleveland.
This year the festival takes place from September 26 - October 4. Shows range from $0-$15 at venues like Great Lakes Brewing Companies Tasting Room Beer Cellar, Reddstone, Grog Shop, Hilarities, the Cleveland Improv and Ingenuity Fest. Something for Clevelanders on every side of town no matter their budget!
For a complete rundown of programming and participants, visit www.accidentalcle.com or the Accidental facebook page. To inquire about reservations for any shows email accidentalcomedyfest@gmail.com