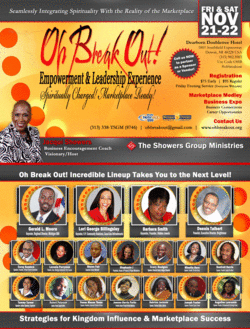 Spiritually Charged!
Marketplace Ready!
Seamlessly Integrating Spirituality with the Reality of the Marketplace
Oh Break Out breaking out of the containment of the four walls of worship. It has expanded and lengthened its programming to challenge 21st century believers to seamlessly integrate spirituality with the reality of the marketplace.
Scheduled for Friday, November 30 to Saturday, December 1, 2012, Oh Break Out is an inter-denominational event for people of all ethnicity and socio-economic backgrounds. It is a cross between a conference, a retreat and a revival and is termed An Experience. The Oh Break Out Experience will be held at the Radisson Hotel Bloomfield Hills, 39475 Woodward Avenue, Bloomfield Hills, Mich. Portions of the net profits will be donated to benefit Life Works%u2019 Youth Impact Program.
%u201CThis year%u2019s theme, Ignite the Fire, exemplifies Oh Break Out%u2019s commitment to equip, educate and empower people to break out of limiting thoughts and habits and experience the exceedingness of God,%u201D said Visionary and Experience Host Minister Jacqui Showers. This means breaking out of a mindset promulgated from the premise of separation of church and state that has kept believers from exercising their liberties and freedoms. We have a responsibility to fulfill the mandate of the great commission, but we also have to be equipped to wisely integrate the dichotomy of responsibility with worship and work,%u201D she added.
Recognizing the paradigm shift of the 21st century mission field, Oh Break Out%u2019s goal is to equip and educate marketplace change-agents with solid biblical principles for spiritual, professional, cultural and personal empowerment in expanding their sphere of influence. It provides a synergistic spirit-fueled atmosphere that encourages relationship development for further spiritual growth and business opportunities. This year%u2019s spirit-filled line up of speakers and guests are poised to propel registrants into a higher mindset so they can break out of barriers and limitations that have kept them in bondage long enough.
Lori George Billingsley Keynote Speaker, Vice President of Community Relations for Coca-Cola Refreshments, Atlanta, GA
Art Cartwright Keynote Speaker, Founder/Owner, Global Empowerment, LLC, Detroit, MI
Minetta Hare Keynote Speaker, Founder/Visionary, Lydia Circle of Christian Professional & Business Women, Global Solutions and Innovative Consulting, Detroit, MI
Corey Sanders Presenter, Social Media Speaker, Strategist & Author, Detroit, MI
Renee Wallace Presenter, Founder/CEO, Doers Consulting, Detroit, MI
Erica Hall Presenter, Financial Planner, Erica Hall Wealth Advisors, LLC, Detroit, MI
Julius Baker Facilitator, Pastor, The Rock Christian Community Church, Detroit, MI
Stephanie Pride Psalmist, Co-Host, Good News, House of Prayer & Praise Ministries, Detroit, MI
%u201CThe marketplace for years has been like this forbidden terrain that although we spend the bulk of our waking hours there, we have not conquered. Yet it is the marketplace that takes us into another realm of influence and where the wealth transference takes place,%u201D said Minister Showers.
According to Minister Showers, %u201CTraditional methods of mission work may not reach them. You see, there are people who may never be imprisoned, live in a shelter or on the streets, but every day we interact with them in our comings and goings, most notably at work. Yet, they are crying out for answers as they seek a deeper meaning of life and seek to establish intimacy with God in an uncertain world and economic climate.%u201D
Registration is $75 and includes all meals. Early registration ends November 15 and is $55. Registrants will also be exposed to a myriad of products and services in the Marketplace Medley. For vendor and sponsor opportunities contact 313.338.8746 or visit www.ohbreakout.org.
Registration requests along with check or money order can be mailed to The Showers Group Ministries, PO Box 32909, Detroit MI 48232-0909. Individuals can also register on the Oh Break Out web site at www.ohbreakout.org.
Life Works Youth Impact is an annual summer program for inner-city youth ages 8-18 designed to strengthen, equip and empower them with biblical-based life application skills to succeed as they mature into productive adults. In the history of the program there has not been one teen pregnancy, youth detainment and every participant has completed high school with many going on to college.
Founded by Jacqui A. Showers, The Showers Group Ministries empowers people to become all God envisioned so they can experience what God S.A.W. (spiritual, abundance and wholeness). For more information, visit the website at www.tsgm.org or call 313.338.8746.