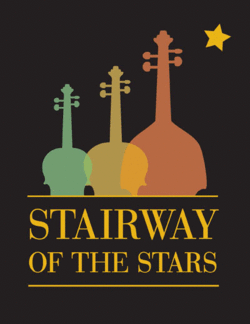 For 65 years, the Santa Monica-Malibu Unified School District has produced an annual musical extravaganza to share the outstanding music education programs in the district with the community that provides much of the support. The district's excellent music programs are featured in three nights of concerts called "Stairway of the Stars" at Santa Monica High School's historic Barnum Hall auditorium.
Over the three nights, there are approximately 1,000 student performers involved in the Stairway concerts. The 2014 concert will actually be the 65th Annual Stairway-of-the-Stars!
This year, the concerts will take place on February 7th, 11th, and 13th, from 7:00 p.m. to about 8:30 p.m. The concert will be held this year in Barnum Hall on the Santa Monica High School campus. Each year, a guest conductor is featured to work with the district's students.
The 2014 Stairway Honor Award Recipient will soon be announced.
FOR 2014 STAIRWAY DEDICATIONS to be included in the Stairway program, to students & friends, please copy and paste the following web address to your browser, then download the Stairway Order Form for Dedications: http://smmusd.org/vapa/stairway/index.html
Make a DONATION to support the extraordinary quality of the SMMUSD Music Program! This year, you can include a donation when you pay for your tickets online.
Stairway online advance ticket sales are available to families of students performing in Stairway. Each student performer may purchase up to two tickets during the online advance ticket sales period with their student ID code, for the night of their performance ONLY, on a FIRST-COME, FIRST-SERVED BASIS. Families with more than one student performing may purchase up to two tickets per performing student for each night the student is performing only.
For families wishing to purchase additional tickets, a limited number of remaining tickets will be made available to the general public starting at 5:30 p.m. at the Barnum Hall box office on each event night. Tickets will be sold each evening at the box office ONLY for that evening's performance. Ticket price is $15.00 each, cash or check only at the box office.