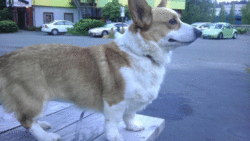 Role at Brown Paper Tickets:
Oh wow hi, I love you.
How I can help you:
I bring the ball back and I will sit on you and oh wow everything is awesome!
Why I love Brown Paper Tickets:
OH MAN EVERYONE IS WANTS TO PLAY I LOVE PLAYING OH MAN
Best part of the job
:
OH I LOVE GETTING BELLY RUBS OH WOW YOU'RE SO SUPER COOL, EVERYONE IS SO SUPER COOL.
My secret talent:
I play dead for food then I poop it out on the floor when no one is home oh wow
My dad always told me:
"STOP POOPING ON THE FLOOR"
but he doesn't mean it, he's so super cool and awesome.