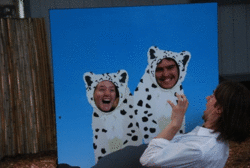 Quel est votre poste chez Brown Paper Tickets?
Advanced Client Services Rep
Comment je pourrais vous aider:
I am by the phone Monday through Friday to answer your questions about setting up events in the BPT system. Sometimes I don't know the answer off the top of my head... but I will find it for you.
Quel est votre outil favorit dans le système de BPT?
The Season Pass function is pretty sweet - fun to set up and so useful for producers who want to keep their will-call lists accurate while allowing patrons to buy all their tickets for the season in one go.
Dans mon temps libre...
I play a few instruments, work on puzzles, try to learn new languages, and try really hard not to think about all the new things that piled up at work on Friday!