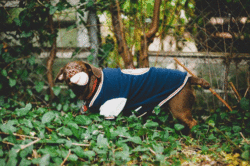 When I'm not working:
You can find me training my dog, playing bass in a band called
SEMINARS
, reading comic books, spending way too much money on records, and traveling.
How I spend my summer:
I spend my summers volunteering at
Rain City Rock Camp for Girls
which is a rock camp in Seattle for girls dedicated to building positive self-esteem and encouraging creative expression through music.
Favorite quote:
It's not what you do from nine to five, it's what you do with the rest of your time. "Say It," Battery
This is my cute dog's page!