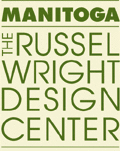 Manitoga/The Russel Wright Design Center: House, Studio, Landscape Tour
Manitoga/Russel Wright Design Center
Garrison, NY
Manitoga's mission is to preserve the legacy of pioneer designer Russel Wright-his home, landscape, products, archives and philosophy, and share them with professionals and the public.
When Wright first found this property in 1942, it had been damaged by a century of quarrying and logging. Over the next three decades, until his death in 1976, he carefully redesigned and reclaimed Manitoga's 75 acres, using native plants, his training as a theater designer and sculptor, and his innovative design ideas. Though the landscape appears natural, it is actually a careful design of native trees, rocks, ferns, mosses, and wildflowers.
Manitoga is the only 20th century modern house museum open to the public in New York State, and one of few on the east coast. Wright considered it his most important creative effort. In 1996 it was listed on the National Register of Historic Places and in 2006, it was named a National Historic Landmark by the United States Department of the Interior.