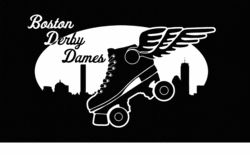 2013 Season Schedule
July 27 - Boston Massacre vs. Detroit Derby Girls All-Stars (in Cambridge!!)
Sept 14 - Cosmos vs Nuts; Horrors vs Pissahs
Oct 12 - Cosmos vs Pissahs; Horrors vs Nuts
Nov 16 - Home Team Playoffs
Dec 14 - Home Team Championships
Who are the Boston Derby Dames?
Created in 2005, the Boston Derby Dames is Massachusetts's premier all-female flat track roller derby league. As a founding member of the
Women's Flat Track Derby Association (WFTDA)
, BDD has worked to build and represent the sport on an international level. Our WFTDA-sanctioned all-star team, the Boston Massacre, is currently ranked
21st in the world, according to the latest WFTDA rankings
.
In our 8th season, we have more than 75 skating members, four home teams, and two travel teams. At home, BDD is represented by the Cosmonaughties, Nutcrackers, Wicked Pissahs, and an all-new home team; on the road, Boston has two travel teams: our all-star WFTDA-sanctioned team The Boston Massacre, and our interleague B team The Boston B Party.
Our 2013 season takes place at
the Aleppo Shriners Auditorium in Wilmington, MA
; whether you're a roller derby veteran or a first-time derby spectator, we welcome you to come check out one of our bouts. Those familiar with the BDD season may notice a few changes this year: 2013 features separate seasons for the league's travel and home teams, with a June Expo bout to introduce BDD's newest home team. In the Spring, fans can cheer on their travel teams at home as they battle Montréal, Maine, and the all-male roller derby team Mass Maelstrom. Then, in the Fall, settle in for four months of home team showdowns.
Advance tickets are $16 for adults, $12 for kids 6-13. Kids under 6 get in free! We also offer $25 VIP trackside seating, which gets you closest to the action. All tickets include admission to both games, and admission to the after party on the premises!