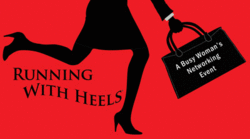 So there I was in the shoe department test-driving a fabulous pair of heels when it first dawned on me. My entire life I've tried on shoes in the exact same way. I walk a few obligatory paces back and forth and then I sit and cross my legs.
In reality, once I buy those heels and take them home all I really end up doing in them is running. Running to catch the train in the morning, running out to grab some lunch, if I'm lucky, running an errand or running to meet a friend before running home and I know I'm not the only one!
If you're a working woman, chances are you're always on the run too and don't have time for much more which is why I've launched 'Running With Heels LLC, A Busy Woman's Networking Event'.
In less time than it takes to do a load of laundry, you'll have the chance to sip a cocktail, hear from an inspiring speaker, enjoy a three course family-style meal and gain access to a select group of women striving to meet their maximum potential. How's that for multi-tasking?
So whether you're looking to expand your client base, energize your business, explore opportunities, find or be a mentor or simply make a new friend, Running With Heels is the premier go-to resource for building your network.
Thanks for your interest. I look forward to running into you soon!
Jenny Powers
Founder & CEO