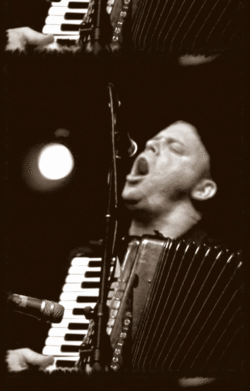 Role at Brown Paper Tickets:
Event Marketing Coordinator
Why I love Brown Paper Tickets:
This is such a great company to work for! There is such a focus on your personal talent and ability and a strong desire to let you express those in creative and productive ways. As an independent producer myself, I've always appreciated the level of service Brown Paper Tickets provides and the ease with which we allow small productions to have all the services and convenience of a larger ticketing company: 24/7 customer service, physically printed tickets, a producer page, a 1-800 hotline, and since there's no contract to sign, anyone can use the service no matter how small the event. Brown Paper Tickets, could you be any cooler? I think not.
Favorite tool in the Brown Paper Ticket system:
Automatic Facebook Page and Tweet creation! One of my pet peeves when promoting an event is creating a Facebook page, a MySpace page, a Tweet, and so on. It can be so monotonous. We've taken away most of those steps by allowing producers to create social media posts at the same time they're creating the ticketing page for their event. What's great about this is that all your pages are visually consistent and easily link back to the ticketing page. You get all your social media posts done in one fell swoop. This really saves a ton of time for the producer and really streamlines the whole process. Nice work Brown Paper Tickets.
When I'm not working:
I love Seattle and all the amazing restaurants, bars, and cool events that go on in this great city. Me and my wife can often be found noshing in the International District, having drinks in Columbia City, or attending a myriad of musical, theatrical, and art events all around town.
I'm also an accordionist and lead singer in a punk-cabaret band called The Bad Things, so I spend a lot of time writing morbid songs about creepy small towns and alcoholic neer-do-wells and performing said tunes in cabarets, clubs, beer halls, and dive bars all down the West Coast.
In the two months that aren't rainy I like to get out of the city and find a nice small town, lake, river, or mountain cabin to chill out in with my wife and friends. Recently Sayulita (Mexico), Lake Chelan, and the Methow Valley have been favorites. My wife and I are also expecting our first child so I'll probably replace all the above with not sleeping, changing diapers, and making tasty meals for the family.