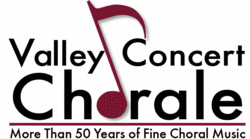 The Valley Concert Chorale, now in its
52nd season, is the Tri-Valley's Premier Chorus. Under
the direction of John Emory Bush, the Chorale continues
to offer a variety of musical performances to serve the
diverse musical tastes of its audiences.
Valley Concert Chorale's mission is to engage
audiences in the transforming power of music by
sharing their passion and joy in live performance.
Valley Concert Chorale is dedicated to excellence
in singing choral music of all genres, nurturing the
next generation of singers, and supporting musical
endeavors in the Tri-Valley community.