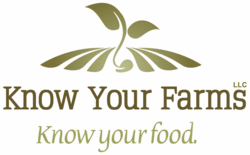 Know Your Farms seeks to rebuild the Charlotte, NC local food system in a sustainable way...one that is not only environmentally responsible, but also socially and financially responsible.
We do this by:
* Supporting local farmers through programs which yield higher return for farmers than other direct marketing options.
* Educating consumers through on-farm work projects, our annual farm tour, and our summer day camps.
* Encouraging sustainable agricultural practices among our farmers.