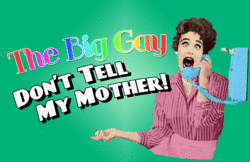 More stories. More ring pops. This time, it's all about Mom!
Hear the best writers in the business confess to things they'd never want their mamas to know! Is it embarrassing? Yes! Cringe-worthy? For sure! Awesome? Hell, yeah!
If you've ever been picked up for shoplifting, masturbated to your parents porn or cyberstalked your therapist, we'll make you feel normal!
Performing Live:
Mary Birdsong - actor, The Descendants, Reno 911!
Justin Halpern - author, Shit My Dad Says
Jen Kober - comic/actor, American Reunion, Treme, Curb Your Enthusiasm
Shelagh Ratner - VH1, Comedy Central
Kay Sedia - The Tupperware Drag Queen of SoCal!, Chico's Angels
Mara Shapshay - writer, Huffington Post, Junk American Princess
Hosted and Produced by Nikki Levy