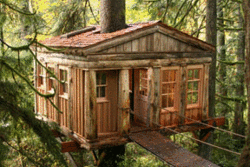 TreeHouse Point is the beautiful setting to tour Pete Nelson's (the Treehouse Master) treehouses!
Tours are conducted all months of the year at
11:30AM,
on select dates and
ADVANCE TICKETS ARE REQUIRED.
FUTURE DATES are added at 2PM Pacific Time on the 5th of the month prior (i.e. September tour tickets are available after 2PM on August 5th).
In order to respect the peace and privacy of our guests,
stopping by the property is NOT ALLOWED at any time.Please click on [View Event], below, for tour pricing, tour dates, and more tour information.
Please visit our website directly (www.treehousepoint.com) for information on how to book a romantic overnight stay, host your elopement or wedding, host a business meeting, or arrange any number of events to celebrate the milestones in your life!
Easily accessible in all seasons and just 22 miles from Seattle (I-90 East to Exit 22), TreeHouse Point feels like it is worlds away from the chaos of the city. Towering trees draped in green moss, cozy treehouses, and a welcoming staff all combine to create an experience like no other.
We hope to see you here in the trees soon!