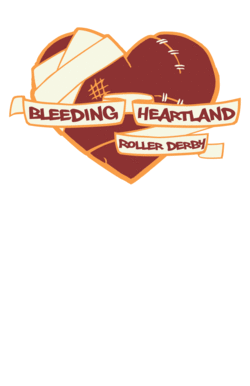 Big Hits. Bigger Hearts.
Our mission is to develop a competitive, community-focused WFTDA roller derby league in Monroe County, Indiana.
Bleeding Heartland Roller Derby are Bloomington, Indiana's flat-track Roller Derby League. Founded in August 2006 by a small group of women with a vision, we now consist of three teams and over forty skaters, all committed to bringing the excitement and athleticism of modern Roller Derby to south central Indiana!
Flat-track Roller derby is making a comeback, exploding on the scene since its re-invention in Austin, TX in 2000. You can find a roller derby league wherever there are tough, dedicated women with the desire to hit hard and skate fast. Modern roller derby is NOT the showy, pro-wrestling-style event of the past, where fights and cheesiness sometimes upstaged athletic ability and sportsmanship. Modern roller derby is a sport that requires strategy, athleticism, and hard-hitting attitude, and there is plenty of excitement for fans from all walks of life.
The members of BHRD are your neighbors, coworkers, classmates, teachers, mothers, daughters, employees, and bosses. They have dedicated their time, talents, sweat, and sometimes even blood to making BHRD all it can be, and to bringing the sport they love to the community they love.
The 2014 Bleeding Heartland Roller Derby league consist of three teams, the Flatliners (in their 8th season), the Code Blue Assassins (in their 5th season), and the Poison IVs (in their 3rd season). These teams play locally, throughout the Midwest, and even nationally, with recent trips to New York City, New Orleans, Pittsburgh and a couple of trips in the 2014 season to Canada. In early 2009, BHRD was thrilled to become a member of the Women's Flat Track Derby Association (WFTDA), making us eligible for regional and national tournament play and ranking.
BHRD loves their fans, and can't think of anything better than a full house on game day! Come watch them play: it will be an experience you won't soon forget! For league updates and more information, follow us on Twitter or become our fan on Facebook.
Want to be more than a fan? BHRD runs on volunteers!! Running the league and managing bouts is a massive undertaking that requires the help of many. From ticket-takers to referees, concessions to commentating, and everything in between, if you have the time and desire to help these skaters do what they love, BHRD wants you!