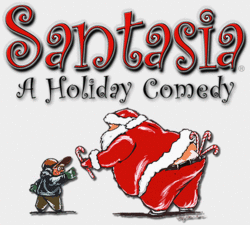 Santasia - A Holiday Comedy is the perfect blend of Yuletide snark and sentiment. Produced and created by certifiable siblings Shaun and Brandon Loeser (iO Chicago) and their band of misfit elves present a freewheeling holiday romp. Santasia's comedy is being compared to old time Vaudeville and to the likes of the Kid's in the Hall an the Carol Burnett Show this multi-media holiday special has it all!
Including classic Rankin and Bass claymation inspired movies created by Michael Granberry (Robot Chicken) to hanging Dad's grandiose Christmas decorations to union battles between a Mafioso Mr. Claus and Joe Pesci-esch Rudolph.
Hilarious choreography by Tania Pearson-Loeser (Team CoCo) will fracture you and along with some sentimental childhood memories Santasia - A Holiday Comedy will leave you inspired.
Starring: Lon Gowan, Chey Kennedy, Brandon Loeser, Shaun Loeser, Rusty Locke, Richard Lee Warren and Thomas Vu.
www.Santasia.com