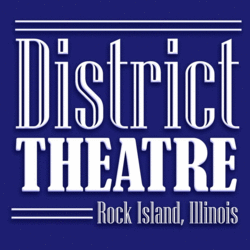 In 2008 Tristan Tapscott and Chris Walljasper founded The Harrison Hilltop Theatre in Davenport, IA. On a shoestring budget, and the ambition of two artists who had no idea what they were getting into, they began to disrupt the quiet theatre scene of the Quad Cities. Their first show as HHT was Proof in 2008. Continually pushing boundaries with their bold programming, they expanded to their first musical TICK, TICK... BOOM! in 2009 which began a trend of increasingly bigger shows.
In the summer of 2011, having pushed the boundaries as far as they could be, the company picked up and moved across the river to downtown Rock Island, IL and rebranded as The District Theatre. In a building that was once both a glass-blowing factory and an independent movie theater, The District became known for innovative staging of big works including CHICAGO, XANADU, and AVENUE Q. In 2012, The District Theatre was the regional premiere for Dustin Lance Black's 8, featuring local media talent in addition to stage actors. 2012 also brought the premiere of A CHRISTMAS CAROL, adapted by Tristan Tapscott and Danny White.
In 2015, The District Theatre relocated again to the beautiful Rock Island Argus building in downtown Rock Island. This new space, still in progress, allows the theatre to expand even further as it continues to produce shows large and small. Among the more notable productions already performed in the new venue include A FEW GOOD MEN, THE ADDAMS FAMILY MUSICAL, THE ROCKY HORROR PICTURE SHOW, BIG ROCK CANDY MOUNTAIN, and BIG ROCK CANDY CHRISTMAS, both original works by founder and Creative Director, Tristan Tapscott.