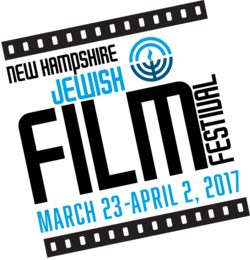 The New Hampshire Jewish Film Festival is an annual statewide cultural event and signature program. It is created and presented by the Jewish Federation of New Hampshire and is the organization's largest cultural event of the year.
The NH Jewish Film Festival presents an eclectic mix of internationally acclaimed films from Israel and around the world. Films promote Jewish themes, explore Jewish identity and present the richness of Jewish culture relative to a diverse modern world.
The 9th Annual Festival will take place March 23 - April 2 , 2017 presenting films in 6 cities statewide.
The Festival is funded through the generous financial support of its attendees, Friends of the Festival, Corporate, Individual and In-kind sponsors.
The mission of the NH Jewish Film Festival is to build and expand our statewide audience both for the benefit of the Jewish community and general public.
Click Here to See Our Schedule at a Glance


Click Here to See Our Sponsors