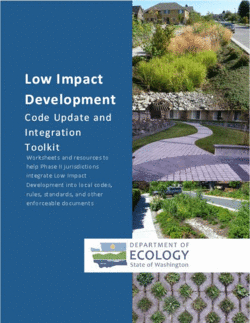 Start planning for your LID code review and update process or learn some new strategies for recharging your existing process. The Washington State Department of Ecology is hosting a series of 8 FREE trainings throughout the state. These trainings are designed to help Western Washington Phase II jurisdictions demystify the process of reviewing and revising existing codes to require and allow for the use of LID principles and best management practices. In Eastern Washington, these trainings provide a great opportunity for Phase II jurisdictions to voluntarily update codes and gain clarity, consistency, and certainty for those looking to incorporate LID into future new and redevelopment projects.
Remember: LID code requirements differ between Eastern and Western Washington - talk to your Ecology permit manager if you have questions about your jurisdiction's responsibilities.
Find the training nearest you and sign up now. Space is limited.