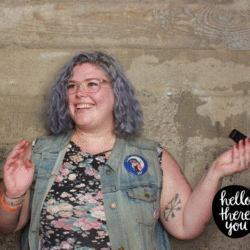 Role at Brown Paper Tickets: Client Services
How I can help you: If you're an event producer, I'm here to help you with all of your rootin' tootin' event creatin'/ticket sellin' needs.
Best part of the job: So many cute dogs! I guess working with a big group of smart, cool, talented, driven people is pretty neat too. I love it!
When I'm not working: I am a karaoke QUEEN.
Favorite quote: "It's as nose as the plain on Ann's face"-Michael Bluth
Favorite fruit: Avocado!
My random accomplishments: I was my school's spelling bee champ in the 5th grade (but I totally bit the dust at the county-level competition).
If I were a sea creature: I'd be an otter. They hold hands when they sleep so they don't float away from each other. Isn't that the cutest?