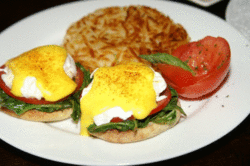 Role at Brown Paper Tickets:
As the Food, Beverage Farm Specialist I am here to help grow our food system and related industries. Helping people harness the power of event registration in order to further their related efforts is my top priority.
Why I work at Brown Paper Tickets:
This company is full of interesting and passionate people. We are encouraged to go after our dreams and lift each other up along the way. I get to help people, gain skills, make friends, and help change the world.
Favorite event?
I have thousands of favorite events. The ones closest to my heart are the one that make the most difference. Today it could be a pasta making class in a tiny restaurant, a Hay ride, chocolate pairing or a huge festival fundraiser.
Favorite event I've ever worked?
Once again it's tough to choose. The last one I worked was a fundraiser for the Pike Place Market Foundation. Seattle is very lucky to have such a great public market.
What I love?
I love my family, friends, music, food, the soil, a cold beer, and a hard days work. In no particular order.