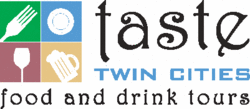 Welcome to the Taste Twin Cities Food Tours
Whether you are an out of towner visiting this great city or a local resident wishing to get a deeper insight into the place you call home; then you have come to the right place. We welcome you and are excited to have you join us on a journey that is sure to delight!
Taste Twin Cities Food Tours not only provides you with a gateway to the absolutely stunning delicious edible delights of the Twin Cities but also gives you an insiders view of our history, culture and art without missing out on the smaller and lesser known aspects of the Twin Cities rich tradition and heritage present in its epicurean delights.