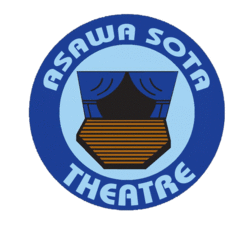 The Asawa SOTA Theatre Department immerses its students in rigorous conservatory-style training that combines classroom study and studio work.
The program focuses on vocal development, movement, acting technique, and script and character analysis. Core areas of study include directing, playwriting, and theatrical literature and history.
Students are on their feet as much as possible, learning by doing. They develop strong professional work habits and acquire poise, self-confidence, and skills in self-expression and speaking.
The department mounts full-scale productions and brown-bag performances year-round.
All students are encouraged to participate in regional theatre festivals and competitions. They apply to the California State Summer School for the Arts where the department is well represented each summer.
The RUTH ASAWA SAN FRANCISCO SCHOOL OF THE ARTS (renamed in 2010) is a diverse magnet specialized arts public high school (Grades 9 through 12) in a small school environment in the San Francisco Unified School District. SOTA was founded in 1982. It has been located since 2002 on our campus at 555 Portola Drive, San Francisco.
The Asawa SOTA offers pre-professional programs in Visual Arts, Instrumental and Vocal Music, Media Arts, Creative Writing, Dance and Theatre (Acting) and Technical Theatre programs. Asawa SOTA also offers most academic college preparatory classes. SOTA currently serves over 600 students from throughout the San Francisco Bay area. Entrance is by application and rigorous audition and is open to students just entering high school or transfer students of any grade level.
For more information about the Asawa SOTA Theatre Department, visit our website at http://sfsotatheatre.org. For information on the Ruth Asawa San Francisco School of the Arts, visit http://www.sfsota.org