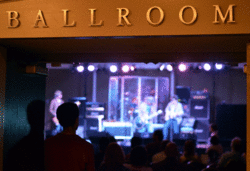 Just outside of Chicago, minutes from O'Hare, is an amazing venue that captures "old world" elegance in a modern urban environment. This is ON STAGE at Metropolis Ballroom of Arlington Heights, IL, and it boasts an evening out like no other. The Ballroom already noted for amazing private events is now reintroducing the elegant dinner show concept with its launch of ON STAGE and their new music lineup for an ALL AGES audience. The two show evenings provide VIP status so the participant can get up-close and personal with its roster of amazing talent, every event is an opportunity to meet the artists in person ON STAGE at the Ballroom.
-
With a family heritage in the culinary arts, Ballroom President and CEO Thomas Manetti launches ON STAGE for all the food lovers with a desire for an extraordinary dining experiences, that will indulge your senses, with the tastes, sights, and sounds of the exciting talent lineup schedule for each event. Most
The dinner shows are in the Vail Campbell rooms and included a meal prepared exclusively for the evenings guests by the Ballroom chefs. Linen napkins, sauces on the plate, and service like it was meant to be. Plus, unlimited house wine and beer with your gourmet menu.
-
The second performance is a concert in the ballroom which opens with a youth act from the local area.
Concert guests can upgrade to a VIP after party available to a limited number of guests, which include a champagne toast with the talent.
Logon to MetropolisBallroom.com and click the entertainment tab for more information or call the 24/7 Ticket Hotline: 1-800-838-3006. Whether from the stage in our amazing ballroom or your table, On Stage at Metropolis Ballroom is an opportunity to meet the artist in person and enjoy amazing cuisine.
Exciting things are happening at the ballroom in Arlington Heights.
PAGE DOWN TO SEE OUR AMAZING CALENDAR OF SHOWS...