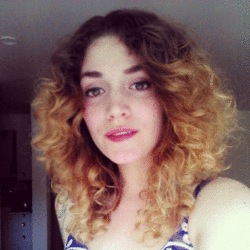 Role at Brown Paper Tickets:
print the tickets, mail the tickets, bring joy to the world.
Why I love Brown Paper Tickets:
I get treated like a bona fide grown-up! I can be who I am while working for a company I'm proud to represent and that is pretty rad.
Best part of the job:
office pets!
When I'm not working:
I'm probably fawning over my precious kitty cats [early on-set cat lady syndrome over here]/getting funky with my pals/falling down a Tumblr k-hole.
My secret talent:
it wouldn't be much of a secret if I told you, would it? nice try, internet!
If I were a sea creature:
I'd be a Giant Squid and be THE MOST AWESOMELY TERRIFYING THING ON THE PLANET.
Fun fact about my hometown:
it's trashy. and also the 2nd city incorporated into King County after Seattle. good job, Kent.