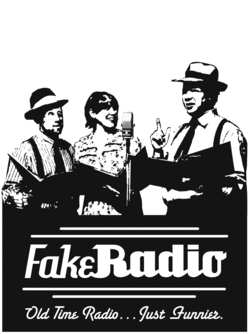 "Fake Radio" is a troupe of talented actors, comedians & special guest stars who re-create live, staged versions of actual radio broadcasts from the 1930's-1950's. All shows use the original transcripts from these radio shows plus all of the original commercials! One part historical and one part hysterical, these shows recapture a lost era while introducing new generations to a classic art form.
The show captures the magic of being in the studio audience during a live taping of an old time radio show. The troupe performs as was done in the Golden Age: standing before microphones, with scripts in hand and sound effects synchronized perfectly. Only, they risk a bit more: in order to bring a reverent, yet comedic attack on the classic scripts, the talented troupe & guest stars sometimes improvise when the moment is right...much to the delight of the audience.
Previous guest stars include:
John Larroquette - "Night Court", "Stripes", "The Practice"; Fred Willard - "Spinal Tap", "A Mighty Wind", "Waiting for Guffman", "Best in Show";
Jeff Garlin - "Curb Your Enthusiasm";
Mark McKinney - "The Kids in the Hall"; Kevin McDonald - "The Kids in the Hall"; Dean Cain - "The Adventures of Lois & Clark"; John Lynch - "The Drew Carey Show", "Fargo"; Marica Wallace, "The Simpsons" & "The Bob Newhart Show";
Deborah Wilson - "MadTV"; Tom Kenny - "Mr. Show" & "SpongeBob Squarepants";
Carlos Alazraqui - "Reno 911!"; Denny Siegel - "Whose Line is it Anyway?!?";
Maria Bamford - "Comedy Central Presents"; Cathy Ladman - "The Aristocrats" and nine appearances on "The Tonight Show"