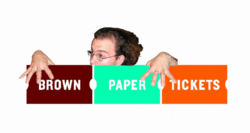 Role at Brown Paper Tickets:
Fulfillment Representative
Why I love Brown Paper Tickets:
Brown Paper Tickets saved me from a retail purgatory
Best part of the job:
My awesome coworkers
If I were a sea creature:
I would lead a rebellion and take over the land
Favorite childhood toy
Fire
Book I wish I wrote
The Phone Book
Favorite Quotes:
"Shakespeare once said, 'Life is pretty stupid. Filled with a bunch of hub-bub, but not really amounting to anything.' I'm paraphrasing, of course."
-Steve Martin
"If you are flammable and have legs, you are never blocking a fire exit."
-Mitch Hedberg
"Hey, everybody got to wear clothes, and if you don't, you get arrested. But that don't mean you got to let some fashion designer in New York or Paris tell you what to wear. Clothes express your personality, so express yourself and not somebody else. Do Calvin Klein, Bill Blass, or Gloria Vanderbilt wear clothes with your name on it? No, of course not. So you table the label and wear your own name."
- Mr. T
Favorite root vegetable:
Wild Turkey
My grandmother always told me:
Never trust a moustache