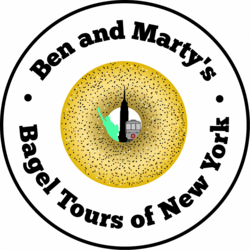 If anyone knows the nooks and crannies and history of New York, it is Ben Wagenberg and Marty Grabstein.
Ben is a native New Yorker. In college, Ben drove a New York City Checker Cab to supplement his college expenses and learned the ins and outs of every borough. During his lifetime in New York, he has experienced the evolutionary changes of City's diverse neighborhoods. This coupled with his keen interest in New York history, trains and subways, makes Ben the ideal tour guide.
Marty grew up in Brooklyn, part of a delicatessen "dine"asty, Grabstein's Delicatessen and Restaurant. From there, Marty studied acting, spending years in the New York theater and comedy world with numerous roles on Law and Order. Marty is also the voice of Courage the Cowardly Dog on the Cartoon Network.
Both certified New York City tour guides, Ben and Marty offer tours that allow you to see the city sights through the eyes of two quintessential New Yorkers.
Ben and Marty's Bagel Tours was formed in 2012 offering public and custom tours of New York City. Every tour begins with hot fresh bagels.What could be better than beginning a tour with the most iconic food of New York?